Moulderness Park
Moulderness Park
1993, Ateneum Park, Helsinki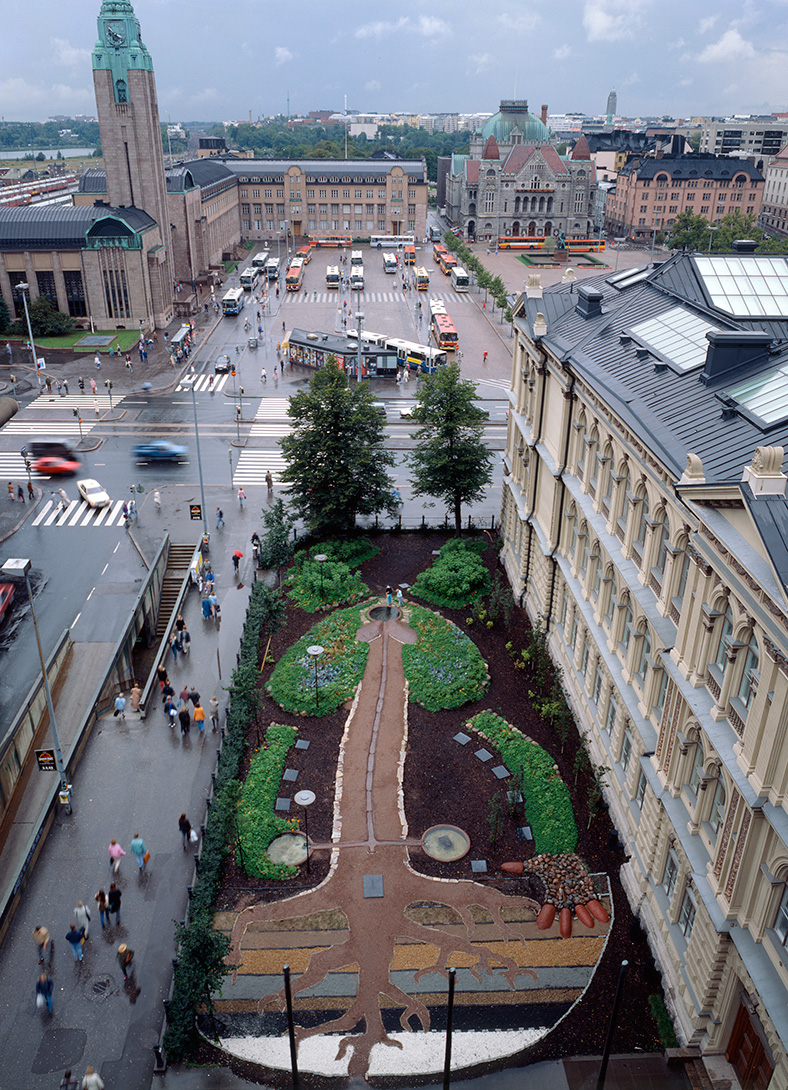 THE BIRTH OF
HUMUS HUMANUM
IN THE BODY OF THE MEMORY SOIL
An introduction to an analogy of reversed correspondence,
wherein an animal, especially a human being, is a plant upside down.
ROOT IS HEAD
LEAVES FLESH
FLOWER GENITALS
Red inside inhaling oxygen
Green ouside blowing it out
IN THE FEAST OF EAST
FATHER SPROUTS
LIKE OUT OF NOTHING
THE THROWN SEEDS
IDEAS GERMINATE
IN THE LAYERS
OF THE MEMORY SOIL
EVERY PLANT IS A TOWER OF ETERNAL PRESENT
Every plant is a Creator . . . of our Human Humus Memory Soil – too!
Every plant, finally, by dying, the present moment,
it makes the human humus, this memory soil, so soft and porous.
So humid and humble, a human mind,  thus becomes.
And a bit humorous too. just because it is now so full filled
with humours of Your Waters alive.
This AQUA VITAE is the natural SPIRITUS FORTIS,
which is, of course . . . BEING BIODRUNKEN . . .
Thus  has, the top soil layers of human memory,
become prepared – rich! – the ground!
So full of . . . small abgounds
is the Amateuri's mind ground, now.
Into these tiny cracks and holes
You enter , into this darkness,
with your white root hair veil of now.
(To say now more . . . it would be  . . . shameful!)