Tower Meadow
Tower Flower of Eternal Present
2006-2015, Tower Meadow, a site specific work at Rantasalmi
wooden barrak and tower, hight 17 meters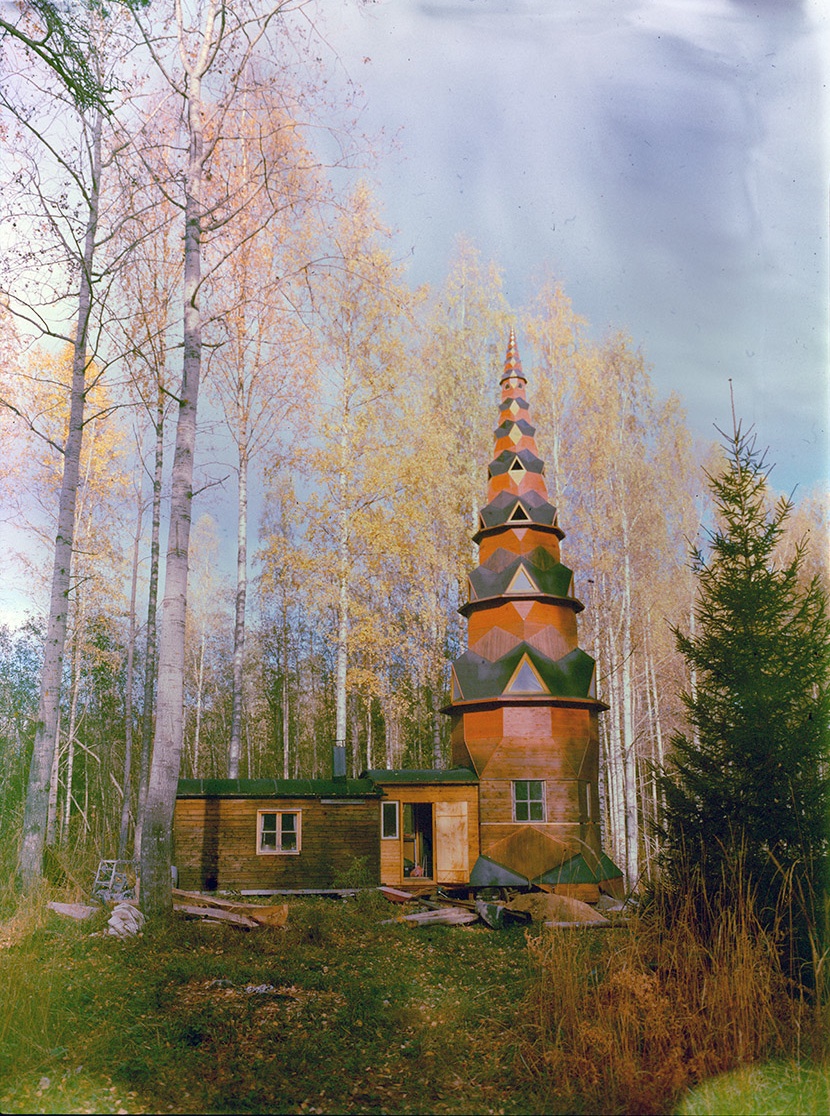 Egocatastrophic is the preparing ground
of human humus memory soil.
for the tower of eternal present, biodrunken.
But during these more than thirty dirty years (of experiments),
Amateuri has found out that
THE NUCLEUS OF THIS
DIONYSIAN BIO DRUNK
IS SOBER
That is why, he made the tower.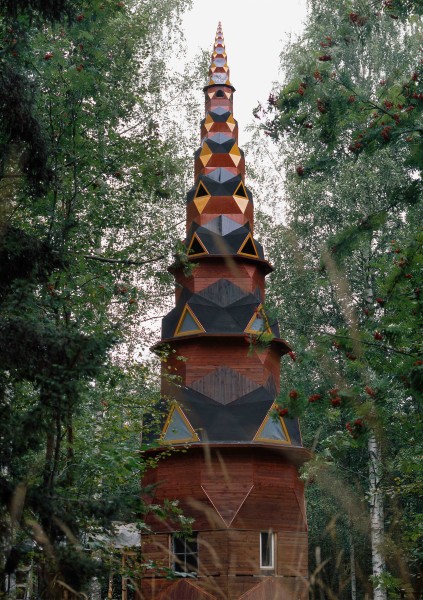 As biodrunken
absorbed I become
into the essential
body of yours.
Your root hair
veil of now
invited me in.
My soil of memory melted.
As diluted liquids
this me, or what ever
became raised from the ground.
You took me.
Into your heart
you raised me
and laughed.
Your geometric
fractal laugh is
as we it is
fysis logos gnomon nous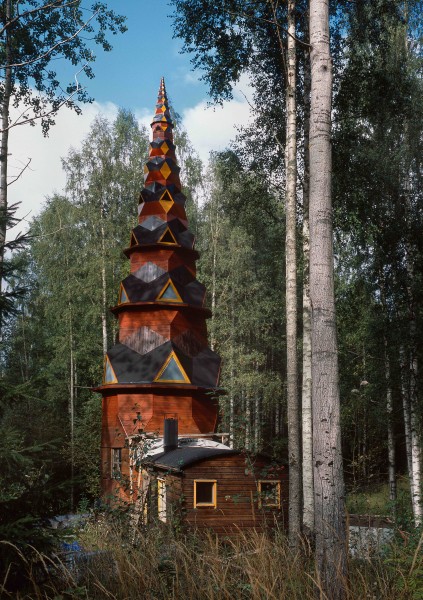 Biokännissä
mä imeydyn
sun varsinaiseen
vartaloos.
Hius juuri nyt
huntusi sun
kutsui mut sisään.
Mun muistini multa suli
lieminä minä lie
nyt maasta nousin.
Mut omakses otit
sydämeesi kohotit
ja nauraa hohotit.
Geometrinen
fraktaalinaurusi
on sinä minä on.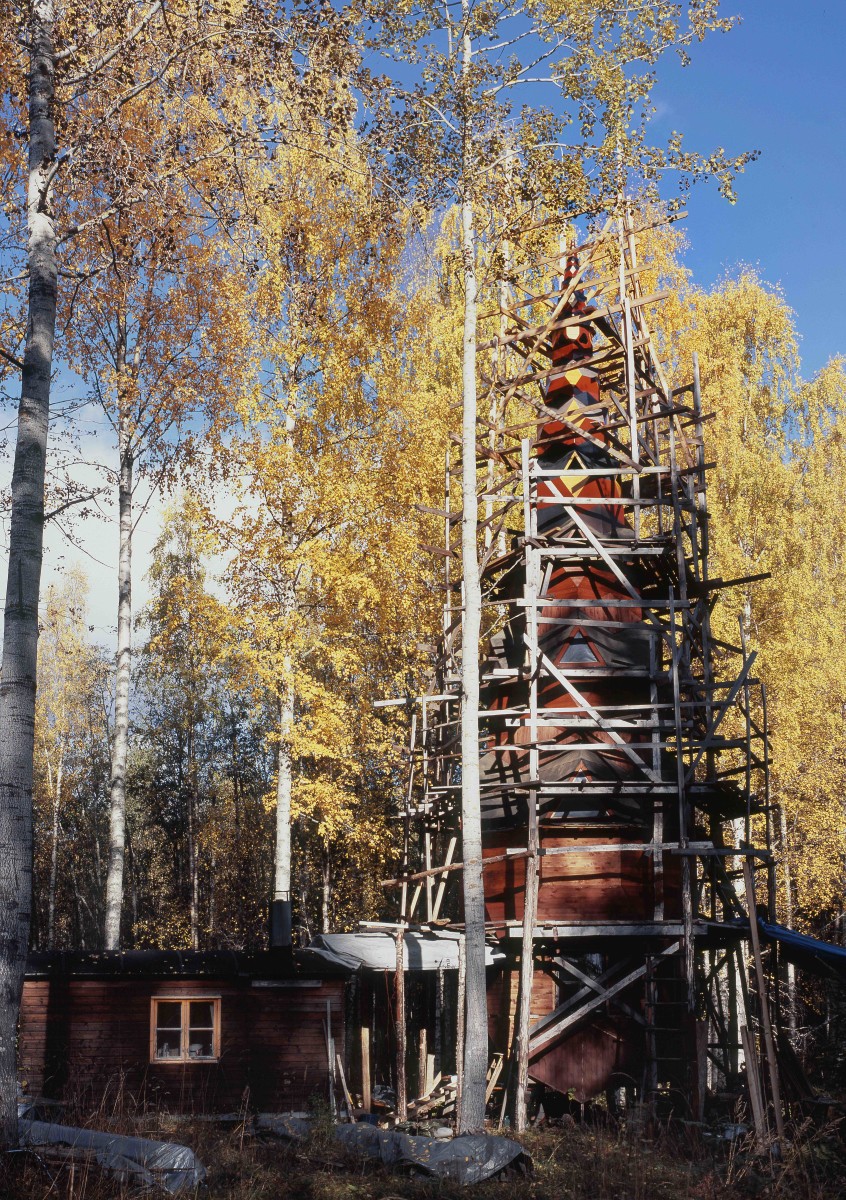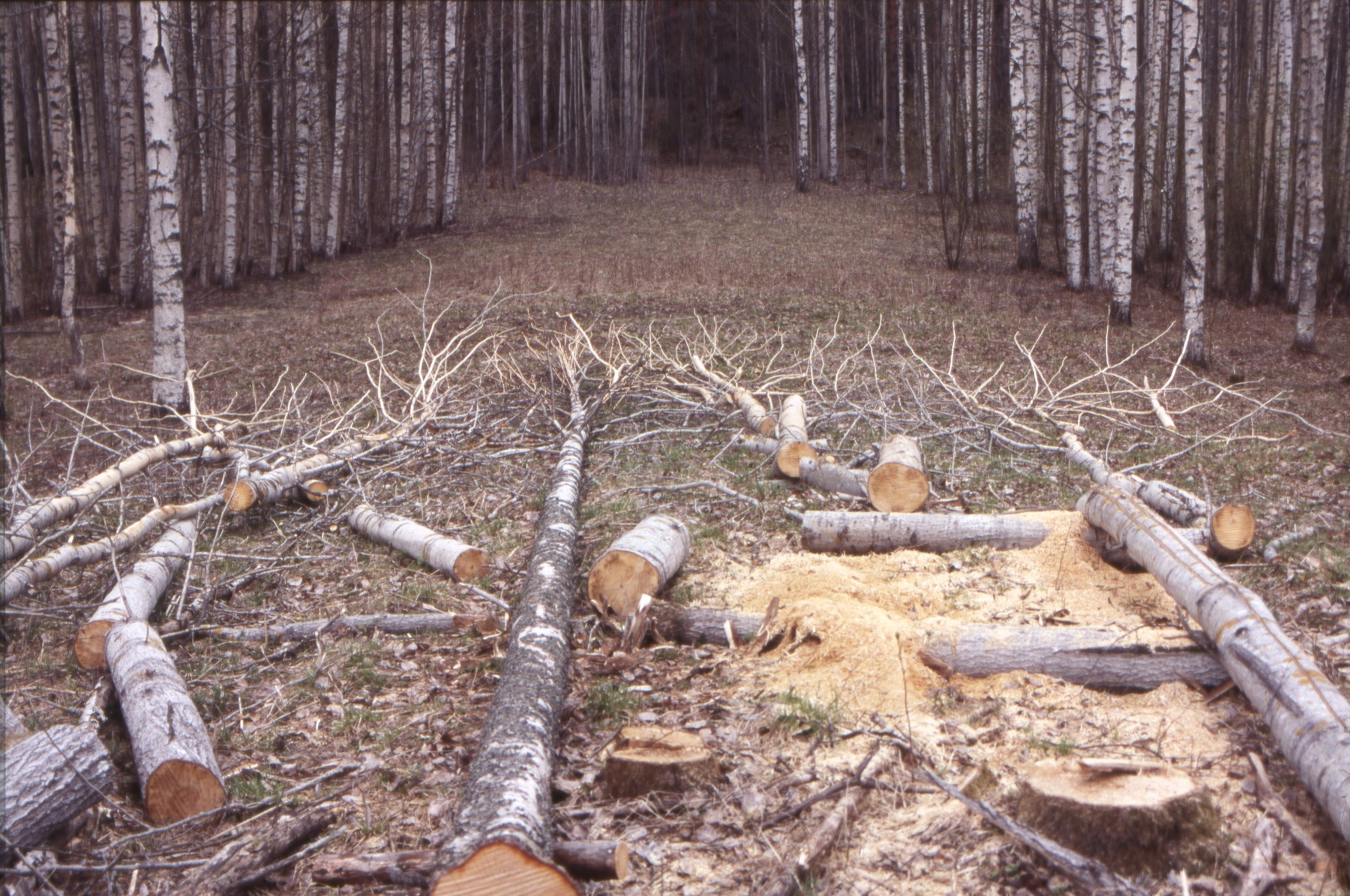 The beginning of the Tower Meadow
in spring 2006.
WHAT EVER FORM
YOU TAKE
YOU MELT ME
YOU SUCK ME IN
RISE ME UP
INTO YOUR HEART
WHAT EVER FORM
YOU TAKE
YOU MELT ME
WITH YOUR WHITE
ROOT HAIR VEIL
PRE SENT PRESENT
GIVEN NOW
YOU SUCK ME IN
WITH YOUR FACE
OF BEAUTY BEATIFIED
YOU RISE ME UP
INTO YOUR HEART
WHICH IS
THE CENTRE
NOWHERE NOW HERE
THE FLOWER TOWER
HERE AS FROZEN COAGULATED
MATHEMATICAL IDEA
OF PRESENT MOMENT AS SUCH
BEFORE ITS FALL AND MELTING
INTO FLOW OF RIVER TIME
THE ETERNAL GERMINAL
FROM TERMINALS PRENATAL
AN INNOCENT INSTANT
INSTALLED WITH ITS ROOTS
INTO HUMAN HUMUS SOILS
OF MEMORY PAST
YOUR LOVELY ROOT ACID
IS SO HIGHLY  EGO MELTING
——————————–
AMATEURI'S FREEDOM
IS EGOCATASTROPHIC
AND BIODRUNKEN
And in absolute freedom even the Law of Geometric Order is totally free to express itself.
During these thirty five, dirty nice years this Amateuri has learned that
THE NUCLEUS OF THIS
DIONYSIAN BIODRUNK
IS SOBER.
This is why I finally had to build this geometric absolutely mathematical  tower.
THE FORESKIN
OF MY REASON
IT SLIPPED DOWN
FROM ABOVE
YOUR TOWERING
HEART
AND NOW I AM !
JUST A BROWN RING
AT YOUR ROOT
LIKE AN INSTANT
A DROP HAS FALLEN
AN ECHO MUST FOLLOW
THAT TOWER PLANTHEON
THE PLANT OF A MOMENT
ROOTING INTO SOILS
OF HUMAN HUMUS  MEMORY
A ring  widens around it caused by the drop, a side effect. This is me.
Ever since I was born finally I fade away.
I am getting old. And in the end anyway everything gets revealed. So I can show all of my self. There is nothing any more, for me, to win from this world. So I can show my cards. Spread them on the table, as picture and figure side up. So from this table you –younger ones – may eat or leave what ever you please. I am just happy, if the dark flesh of my memory is some good food for your plant to grow tall. You may have this decomposing all.
Nature never fails. So, what is that nature in us?
(with the shitting ass picture, 2007)